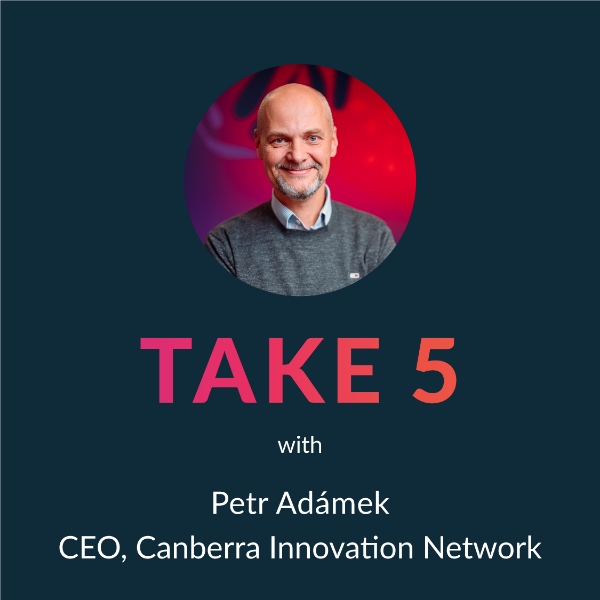 Our first interview in the Take 5 series. We sat down with Petr Adámek, CEO of Canberra Innovation Network (CBRIN). With a belief that entrepreneurs are everywhere, CBRIN's mission is to empower start-ups and entrepreneurs to uncover their potential, make an impact and change the world.
Question: As a prominent figure in entrepreneurship and innovation, what aspects of the Global Entrepreneurship Congress (GEC) have you found most valuable for fostering international collaboration and building a unified global ecosystem?
Answer: I have never been to a GEC before, but I have engaged a lot with the Global Entrepreneurship Network. I see GEC as a giant melting pot of ideas, experiences and visions about the future as well as best practice of entrepreneurial innovation ecosystems from around the world, all in one place. Two standout aspects for innovation intermediaries, like the Canberra Innovation Network (CBRIN), is the platform GEC provides for cross-border partnerships and the sharing and interactions about best practices. By gathering entrepreneurs and those who work with them from various ecosystems, GEC fosters collaboration that connects us across borders and industries, creating a truly diverse and collaborative global entrepreneurial environment.
Question: With your extensive experience, could you share an example of a challenge you've faced in your entrepreneurial journey that required innovative thinking to overcome? What lessons did you learn from that experience?
Answer: Early in our journey at CBRIN, we had opportunities to do many many things to stimulate innovation in our ecosystem. From creative industries to STEM education to national innovation connectivity, government innovation, student entrepreneurship, indigenous entrepreneurship, running programs, ongoing mapping of the ecosystem, sector clustering, and so on. It was frankly overwhelming and it was clear that if we tried to do it all we would not be able to do it well and have impact. The innovative thinking (and doing) we applied was about focus. Finding what matters the most and then working with others to make it happen. Entrepreneurs would label it as their key metric. For us it was the number and diversity of high growth globally relevant innovation companies that we can help. We focused our attention on people, programs, partnerships, infrastructure and activities that support the emergence, learning and growth of these companies within our innovation ecosystem. This has changed the game for us. We now coordinate, partner for, support and oversee a lot of activities, often conducted by others, but with a single aligning focus.
Question: The GEC emphasises actionable intelligence and collective action. In your view, what role does shared knowledge and collaborative initiatives play in accelerating innovation and business growth on a global scale?
Answer: Shared knowledge acts as a source of inspiration, benchmarking, motivation and it is a critical catalyst for innovation, collaboration and progress. Collaborative innovation (and our team delivers sessions on this at the congress) enables those who actively participate to tap into collective intelligence, resources and perspectives. At CBRIN, we believe this is one of the most effective ways to create and activate a community, create alignment, coherence, positive energy and momentum towards action. On a global scale, this enables exposure to what others are doing, it facilitates learning and builds motivation for our respective innovation ecosystems. In essence, global collaboration of ecosystem builders improve the experiences for entrepreneurs everywhere. This is critical, as we need more entrepreneurship, more people with the ambition, drive and the right support so they can create new impactful solutions to some of the most pressing issues of our time.
Question: Entrepreneurship often involves navigating uncertainty and taking calculated risks. Can you highlight a situation where you had to make a pivotal decision for your venture amidst uncertainty? How did you approach it, and what factors guided your choice?
Answer: I believe we cannot and should not try to avoid uncertainty. Entrepreneurs make decisions with imperfect information, under time and resource pressure and we as a global community of supporters need them to be able to do these decisions often and learn from the outcomes. This will sound strange, but the pivotal decisions for CBRIN, are often traced to decisions about our vision and guiding principles. We believe (and are inspired by the book Rainforest: The Secret to Building the Next Silicon Valley) that innovation ecosystems are more like rainforests rather than like organised agricultural systems. We believe that conscious and collective investment in innovation culture and celebrating behaviours that model and improve this culture is instrumental to dealing with uncertainty. The culture provides the safe environment where experiments and learnings are valued as much as achievements.
Question: The GEC brings together diverse voices from over 200 countries. How important is cultural intelligence and adaptability when it comes to creating an inclusive global ecosystem for entrepreneurship? Could you share an experience that highlights the significance of understanding different cultural perspectives in business?
Answer: Innovation and entrepreneurship is about culture. I see culture in the innovation context more broadly – each element of the triple (quadruple) helix has its own subculture, each sector and each organisation has their own culture. Interaction and collaboration of these cultures is not automatically easy, it requires work, open mindset and adaptability. In Australia there is a special context that all of us operate on lands that are being looked after by peoples who are the oldest civilisation on earth. Our respect to their culture and their leadership is critical for our joint porgress. And I see this in the same way in the international context. Cultural intelligence and genuine, conscious investment in learning about and respect of other cultures will make this world a better place. It can reduce international conflict and tensions and unite our resources, ideas and drive to help people and the planet be better off in the long term.