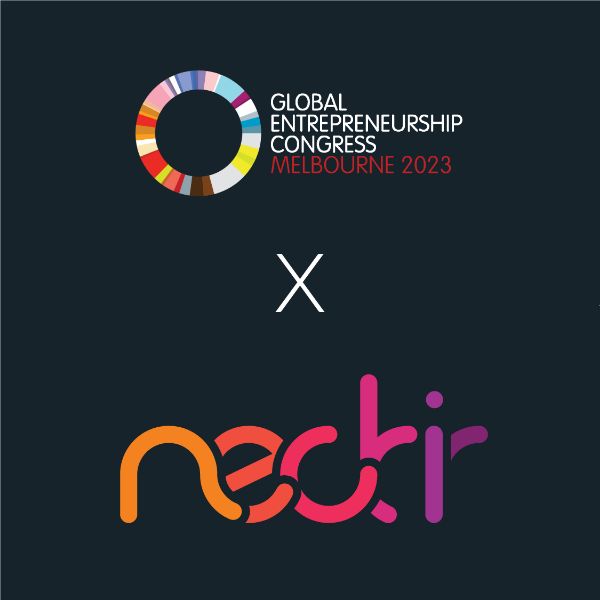 Nectir has been selected by GEN Global, and MCI Australia, to support the annual Global Entrepreneurship Congress (GEC) 2023 in Melbourne, Australia. The Nectir platform will allow academia, innovators, entrepreneurs, investors, policymakers, corporations, researchers, incubators, accelerator managers and support providers to create a community focus on practical challenges to transform our world and build a community of aspiring ideation across all stages of the congress.
Nectir, the world's smartest idea and innovation software is set to showcase Australian innovation to the globe. A secure Software as a Service (SaaS) product that dramatically enhances idea engagement by bringing all people of an organisation or Eco System together to collectively share ideas, solve business challenges and execute the best thinking across business. It is Australian owned, developed in Canberra and is already being used by some major government agencies, such as Australia's Department of Defence and AirServices Australia. Add Your Ideas for Innovation Challenges Before the 2023 Global Entrepreneurship Congress: https://www.youtube.com/watch?v=gEGpkfNYQM4
"Being able to host this event in Australia, utilising a sovereign owned platform, is a once in a lifetime opportunity" states Nectir Managing Director, Tristan Maddigan, as he reflects on the Victorian Government successfully bidding to ensure #GEC2023 is in Melbourne, bringing together thousands of voices, from more than 200 countries to participate in creating one inclusive global ecosystem by networking, learning, sharing, and creating real action.
Nectir's philosophy is to be world-leading in innovation and growth management programs which empowers people to deliver the 'better way' for their organisation, makes a positive impact on their lives and their customers, and the world in which their organisation operates "and this is what makes us the perfect inclusion for the GEC" adds Tristan.
Hosted in Melbourne on 19-22 September 2023, the GEC is set to be four days of actionable intelligence, collaboration, and collective action. Key collaborator for the event, Managing Director, Stephan Wurzinger MCI Australia, mentions that "the GEC has the ability to inspire some real breakthrough moments by encouraging and enabling entrepreneurs, innovators and thinkers to thrive in this cohesive environment. And we believe that when people come together, magic really does happen". The GEC is the only annual global conference dedicated to building capacity in entrepreneur ecosystems. It is delivered by the Global Entrepreneurship Network (GEN), a non-profit organisation operating programs in 200 countries aimed at making it easier for anyone, anywhere to start and scale a business.
The GEC could not come at a more opportune time. Daily news headlines forecast a year of economic, political, and social pressures. Even as innovation and entrepreneurship contribute to many of these challenges, it is only through collective innovation and entrepreneurial action that these challenges can be addressed in the long term. With this in mind, Managing Director Global Entrepreneurship Network Australia, Chad Renando highlights "we are on our way to realising the vision to transform entrepreneurship for the host city of Melbourne, for the Australian innovation ecosystem, for global ecosystems through international delegations, and for future GECs" he adds, "My vision for Nectir is to extend the opportunity for this great community to connect before, during, and most importantly following the event, right through until the next GEC and into other innovation events across Australia. An ongoing collaborating ecosystem. It's a powerful notion".
For further details on #GEC2023 please visit https://nectir.co/events. where you will be invited to register for the GEC to hear keynote speakers Kelly Slater and Mick Fanning explain why 2023 is the year of collective action and transformation.