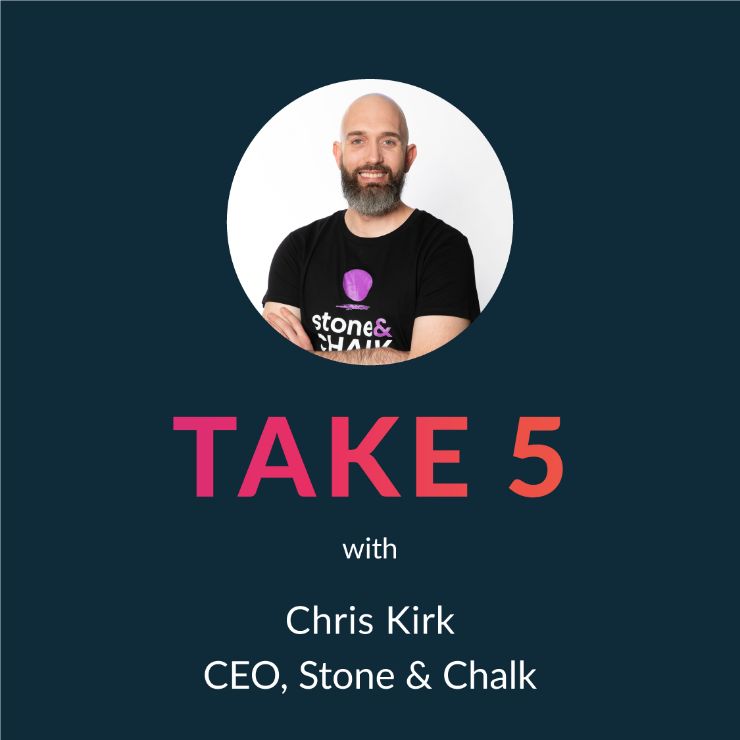 Chris is passionate about helping start-ups tackle the world's most pressing challenges. As part of Stone & Chalk's founding team, Chris has helped lead the growth of their community, products, and services since 2015. Chris is a lover of South Australian wine and a self-confessed cycling addict.
As a prominent figure in entrepreneurship and innovation, what aspects of the Global Entrepreneurship Congress (GEC) have you found most valuable for fostering international collaboration and building a unified global ecosystem?
The GEC is such an incredible platform bringing diverse people from around the world together, allowing for a really open exchange of ideas and insights.
The success of any venture is defined by velocity, not speed. What better way to create velocity for Stone & Chalk's mission to accelerate Australia's transition into a sustainable, tech-driven economy than by learning from, and having the opportunity to, build relationships with some of the world's leading partners and innovators in a collaborative environment like the GEC.
With your extensive experience, could you share an example of a challenge you've faced in your entrepreneurial journey that required innovative thinking to overcome? What lessons did you learn from that experience?
Stone & Chalk exists to help innovators succeed. We've helped countless start-ups and scale-ups grow, and over that time we've found that one of the most crucial things for the success of any entrepreneur is access to customers. So much so that it became one of our key priorities when creating initiatives to help entrepreneurs on their journey.
In order to provide curated connections between innovators and potential customers at scale, we had to completely rethink how we do this effectively. We knew we wanted to create something that would help facilitate these connections while removing the work and overheads for entrepreneurs. Our solution is our recently launched Venture Connect program.
With Venture Connect we aim to connect start-ups and scale-ups to strategically aligned corporates who are looking for partners to accelerate their strategy. Since launching, the program has gone from strength to strength, and we've signed up numerous corporate customers, including some of Australia's leading banks and insurance companies.
The GEC emphasises actionable intelligence and collective action. In your view, what role do shared knowledge and collaborative initiatives play in accelerating innovation and business growth on a global scale?
Tackling the world's most pressing challenges isn't possible without thinking, working, and collaborating on a global scale. Gone are the days where we can afford to constrain our thinking to geographical borders. We need to embrace the diverse knowledge, perspectives, and lived experiences from everyone across the world if we want to solve the crucial challenges we're facing today.
Conferences like the GEC are integral as they highlight the opportunity for innovators who lift their vision and think globally from day one. This way of thinking is going to be the thing that accelerates innovation like never before. Entrepreneurship often involves navigating uncertainty and taking calculated risks. Can you highlight a situation where you had to make a pivotal decision for your venture amidst uncertainty? How did you approach it, and what factors guided your choice?
Stone & Chalk was founded in 2015, and initially we were established as a centre of gravity for fintech innovators. Early on, we realised that if we were really going to impact Australia's future in a meaningful way, we had to broaden our focus to more than just one sector – and that's exactly what we did.
That decision allowed us to grow exponentially over the years, and today we now support over 6,000 residents across more than 515 start-ups and scale-ups in Sydney, Melbourne and Adelaide. Our residents operate in a number of industries, including space tech, climate tech, artificial intelligence, prop tech, cyber security, defence tech, ag tech, web3, health tech, ed tech, and so much more.
The GEC brings together diverse voices from over 200 countries. How important is cultural intelligence and adaptability when it comes to creating an inclusive global ecosystem for entrepreneurship? Could you share an experience that highlights the significance of understanding different cultural perspectives in business?
At Stone & Chalk we support innovators from across the globe, all of whom bring their own unique perspectives and experiences to innovation.
Context is everything when entrepreneurs are working in different cultural settings. Each market has its own nuances and requires its own specific approach when conducting business. A great example of this is how companies prepare themselves for their first trips overseas. The way you pitch yourself to local investors is going to vary depending on the market and its cultural practices. Plus, Australians famously undersell themselves which in certain cultural contexts isn't doing them any favours!
That's something we help our residents with at Stone & Chalk when they're looking to break into new markets. Not only do we connect them with local experts and programs to help them better understand the market, but we also help them adjust their pitch for the local context.